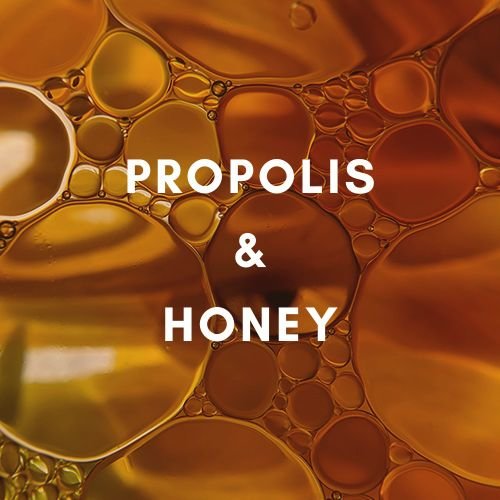 Propolis & Honey
Propolis and honey naturally help repair skin and protect it from free radical damage/oxidative stress. As antimicrobial and antibacterial ingredients, they speed up skin healing, provides care for acne breakouts and soothes sensitive skin. They also brighten dull skin and add a burst of hydration.
BENEFITS
- Antioxidant properties boost skin health
- Provide anti-ageing benefits and protection from free radicals
- Soothes irritated and sensitive skin
- Restores moisture to skin
Is Propolis Right For You?
ANSWER THESE 4 QUESTIONS TO FIND OUT
1: Do you have a damaged skin barrier?
(It might feel as though your skin is tight, and sensitive to anything that is applied)
2: Do you experience frequent acne breakouts, redness and irritation?
3: Does your skin look dull and uneven?
4: Does your skin feel dry and dehydrated?
If you said yes to more than one of the above questions, then Propolis and Honey are a great addition to your skincare routine!
Which type of AHA should I Use?
There are many types of alpha hydroxy acids, and while they perform the same function - they may vary in their strengths.
Glycolic Acid: is considered the strongest AHA that is commonly used in skincare. Due to its small molecular size, it is able to penetrate the skin quickly and deeply.
Lactic acid: is milder than glycolic acid and also helps hydrate the skin
Mandelic Acid: is the ideal AHA acid for sensitive skin, and it has anti-inflammatory properties as well
Products with propolis and honey can be used in your daily skincare routine, as well as during, both, the day and night.
It can take upto a few weeks for visible results, depending on your skin and the strength of the extract.
Propolis and honey pair well with all products, including actives and exfoliants. They also pairs well with other skin healing ingredients such as centella, artemisia etc.
You can also use it in a routine for acne-prone skin as it will boost the effectiveness of that routine.
The One Thing Propolis and Honey Extract is an antioxidant rich toner / essence, with skin brightening, moisturising and anti-inflammatory properties. It nourishes, brightens and soothes skin.
It uses only the Honey and Propolis extract collected locally on the unpolluted Jeju Island. It is extracted after long-term maturation at low temperatures and without alcohol, to preserve the potency of its benefits. 
60% PROPOLIS EXTRACT
An intensive yet soothing liquid, formulated with 60% Propolis extract, Zinc and CentellAC-RX complex, that purifies, cools and clears acne-prone or troubled skin.
Propolis Extract and Zinc PCA provide anti-bacterial properties to help relieve cystic acne and balance your skin's moisture content.
Award-winning pre-soaked toner pads deliver deep hydration and moisture to dry skin.
The essence includes Propolis Extract, Hyaluronic Acid, Glycerin, Allantoin and Panthenol, which add a powerful dose of hydration to dry and dehydrated skin, leaving it moisturised, smooth and comfortable (not tight).
Propolis extract also effectively treats blemishes and breakouts and helps soothe inflammation and redness of the skin.