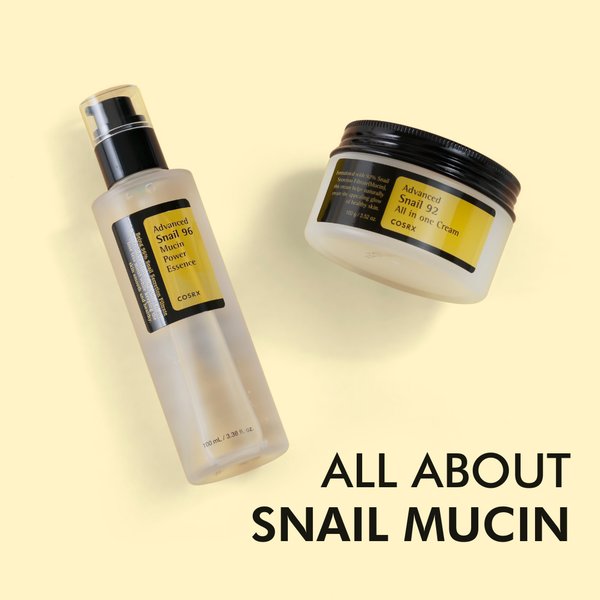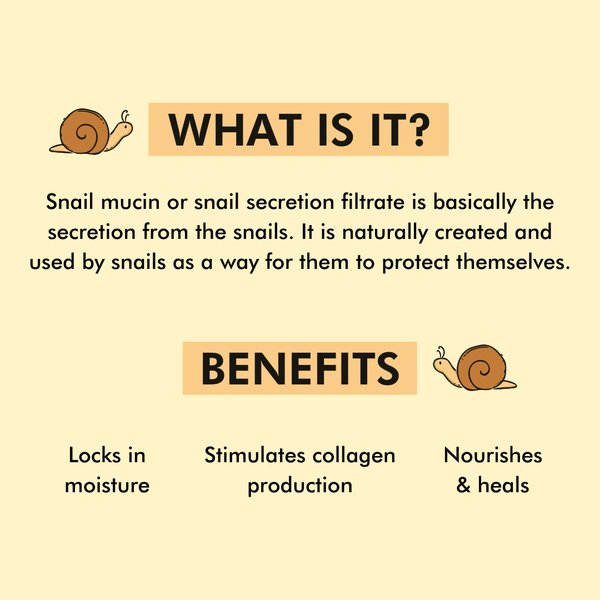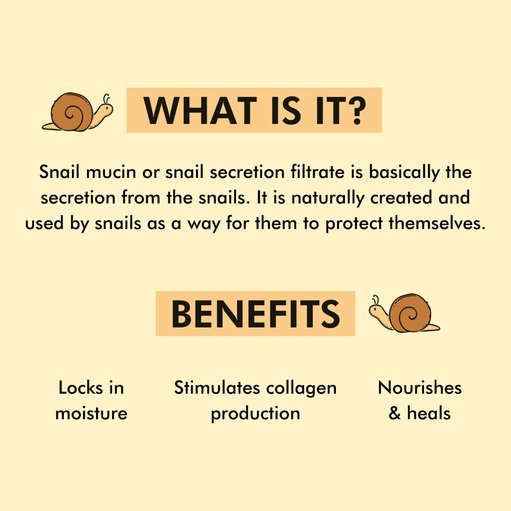 Who Is Snail Mucin Best For?
Dehydrated Skin • Acne Prone Skin • Chemical Exfoliant Users • Sensitive Skin • Dry & Dull Skin
Chemical Exfoliant
Users
Dehydrated Skin
Acne Prone Skin
Sensitive Skin
Dry & Dull Skin
92% SNAIL MUCIN FILTRATE
The Advanced Snail 92 All in One Cream contains 92% snail mucin, that moisturises, plumps and nourishes the skin, leaving you revived and radiant.
Suitable for all skin types, this cream can be used as a day and night moisturiser as it non-greasy. Its smooth gel-cream like hybrid texture requires only a small amount for easy application for your whole face.
96% SNAIL MUCIN FILTRATE
The Advanced Snail 96 Mucin Power Essence is a lightweight, non-greasy essence that nourishes the skin and keeps it healthy.
Snail Mucin helps your skin retain moisture and provides anti-ageing benefits (such as increased collagen) for improved skin elasticity. It also soothes inflammation, redness, and sensitive skin, especially after breakouts by replenishing moisture content.
How To Add Snail Mucin To Your Routine
Which type of AHA should I Use?
There are many types of alpha hydroxy acids, and while they perform the same function - they may vary in their strengths.
Glycolic Acid: is considered the strongest AHA that is commonly used in skincare. Due to its small molecular size, it is able to penetrate the skin quickly and deeply.
Lactic acid: is milder than glycolic acid and also helps hydrate the skin
Mandelic Acid: is the ideal AHA acid for sensitive skin, and it has anti-inflammatory properties as well
Use Daily : can be applied both day and night
Use After A Chemical Peel: to soothe the skin and calm any irritation that may occur
Use As Sleeping Pack: by applying multiple layers of the essence or cream (or both) at night, and leaving it on. This method is suitable for extremely dehydrated and dry skin.
Snail Mucin pairs well with all products, including actives and exfoliants. It also pairs well with other soothing ingredients such as centella, artemisia and chamomile. Similarly, one can use it with acne-treating ingredients as it promotes skin healing.